Monroe Town Offices
Monroe Public Library
Monument in the Common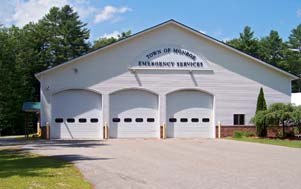 Municipal Building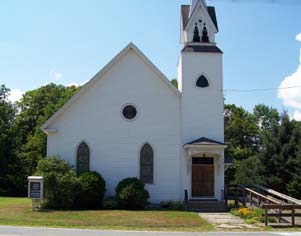 Community Church
Board of Selectmen
Oren Remick - 2024
(oremick@monroenh.org)
John Blanchard - 2025
(jblanchard@monroenh.org)
Justin Bradshaw - 2026
(Jbradshaw@monroenh.org)
Hours 8:00 A.M to 4:00 Monday through Friday; Tuesday night 6:00 - 9:00 PM ;
Phone: 603-638-2644
Fax: 603-638-2021
Email: monroeselectmen@monroenh.org
Town Clerk
Town Clerk -Audrey DiMatties
Deputy Town Clerk - Kelly Nelson
The Town Clerks Office is open. Registrations are accepted until 15 minutes before closing.
Monday: 8:30 until noon
Tuesday: 5:00 P.M.to 8:00 P.M.
Wednesday: 2:00 PM to 6:00PM
Thursday: 2:00 PM to 6:00PM
Friday: 8:30 to noon
Phone: 603-638-2644
Fax: 603-638-2021
Email: monroetc@monroenh.org
Planning Board
Glen Fearon - 2025
Steve Sherman - 2024
Kim Ward - 2026
Raymond LaPete - 2026
Justin Bradshaw, Selectmen's Representative
Planning Board meets the first Tuesday of every month in the Selectmen's Office at 7:00 P.M.
Phone: 603-638-2644
Fax: 603-638-2021
Board of Adjustment
Tony Lamoly - 2024
Kim Ward - 2025
Philip Blanchard - 2025
Paul Regis, chair -2026
Merle Jones - 2027
Board of Adjustment meets as needed
Email: ZBA@monroenh.org
Phone: 603-638-2644
Fax: 603-638-2021
Tax Collector
Keith Merchand Tax Collector - 2025
Deputy Tax Collector
Tax Collector has hours Tuesday from 6:00 P.M. until 8:00 P.M. or by appointment
Phone & Fax 603-638-4919
Email: monroetax@hotmail.com
Highway Department
Randy Bunnell: Road Agent
James Nelson: Road Helper
Phone: 603-638-4949
Fire Department
Fire Wardens
Russell Brown
Matthew Yeramian
Justin Bradshaw
Paul Regis
The Fire Department meets the first and third Monday of each month
Monroe F.A.S.T.Squad
Maynard Farr: Chief
Monica Jaynes: Assistant Chief
Bob Regis
Katrina Wildenstein
The Monroe FAST Squad is an all volunteer department. We would like to thank all of the members for the time and effort you put into this job.
Police
The State Police cover the Town of Monroe
Phone: Nonemergency 603-846-3333
Emergency: 911
Library
Library Director: Jessica Sherman
Library Assistant: Darlene Coursey
Hours
Tuesday (Beginning 9/1/2020) - 12:00 p.m... until 7:00 P.M.
Wednesday: 9:00 A.M. until 4:00P.M.
Saturday: 9:00 A.M. until noon
Supervisor of the Checklist
Cindy Guibord - 2024
Open - 2026
Diane Gibson Smith - 2028
Meet as Needed
Phone: 603-638-2644
Trustee of Trust Fund
Patricia Lang - 2024
Molley Gilley - 2025
Karen Remick - 2026
Sexton Monroe Cemetery
Sexton North Monroe Cemetery
Budget Committee
Wayne Fearon - 2025
David Choate, Jr. - 2025
Karen Gibson - 2025
Kim Ward - 2026
Sean Bliss- 2026
Stephen Dana- 2026
Craig Cutler - 2026