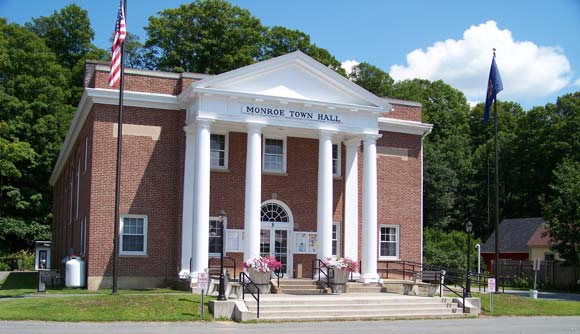 Monroe is a town in Grafton County, New Hampshire, United States. The population was 788 at the 2010 census. The town is located along a bend of the Connecticut River, across from Barnet, Vermont.
Town of Monroe Board of Selectmen
Notice of Work session
When: Friday April 26, 2019
Where: Monroe Town Office Building
Time: 7:00PM
Re: Town Vacancies to be filled
This will be a work session for the Monroe Board of Selectmen. The purpose of this meeting is to discuss how the Selectboard should proceed in order to fill positions which are currently vacant within the Town of Monroe. The public is welcome to attend, but there will be no public input during the work session.
Monroe Water Dept. Consumer Confidence Report [1.74 MB pdf]
History of Monroe
This territory was first known as Hurd's Location or West Lyman. In 1769, James Hurd was granted five islands in the Connecticut River between Lyman and Barnet, Vermont by Governor John Wentworth. Descendents of James Hurd wanted to name the town after him when it was separated from Lyman in 1854, but lost out to the name Monroe. President James Monroe, for whom a mountain in the Presidential Range had been recently named, toured the region during his presidency. Monroe contains part of the Ammonoosuc Gold Fields, extensive mineral deposits that have never been successfully mined.